DBDocumentor ™ - Screen Shots
The DBDocumentor system implements a simple wizard based user interface. This user interface is used to define DBDocumentor projects, even if the command line interface will be used as part of an automated build. Thumb nail images are presented below of each of the pages of the wizard, in the order you would normally progress through the wizard. Please pass your mouse over, or click, on the image you wish to learn more about. The images below were captured for the article; Creating Complete SQL Database Documentation in Only Five Minutes. Please note that the content of several of these screens changes depending upon the SQL dialect chosen. For example, neither Firebird nor Sybase SQL Anywhere (ASA) have SQL Server extended properties, so that option changes for those dialects.







Summary of Screen Function
When you start DBDocumentor, this is the screen you will be presented with. From this screen, you can either create a new project, or open an existing one. If you are a SQLHelp user, DBDocumentor can read SQLHelp project files.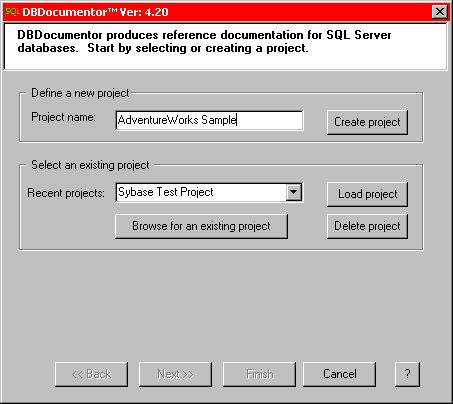 © 2001 - 2009 Pikauba Software. All rights reserved.
DBDocumentor and SQLDocumentation are trademarks of Pikauba Software.